Competitions
Registration for Masters Salon Painting 19th of October 2017
Go to:
www.komask.org
Price Peto Urzua 2015
Petra Everaert, winner price Peto Urzua

Masters salon 2015
Ben Sledsens, winner Masters salon 2015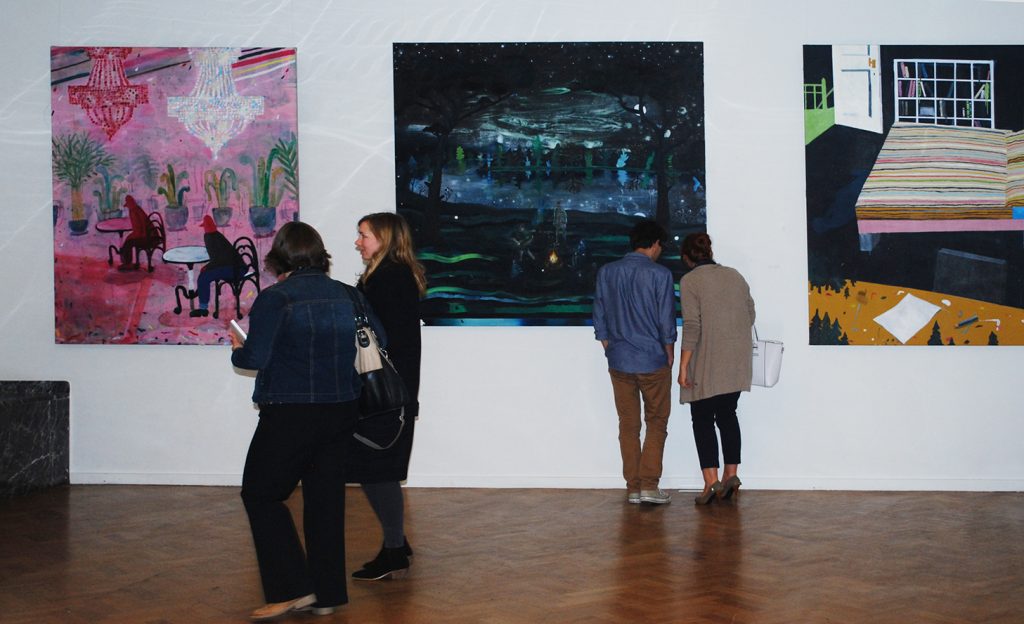 Price Looymans 2015
Henri Ardui, winner price Looymans for life drawing, financed by KoMASK.
Masters salon 2014
Maaike blok, winner of Masters salon 2014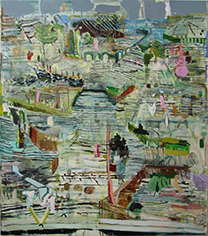 Competition 'bachelor 3' 2014
Mathieu Verhaegde received a stipend for Berlin.
Elya Tettelin also received a stipend for Berlin
 Price Looymans 2014
Jan Gordts, winner of Looymans price for life drawing, financed by KoMASK.

Price Peto Urzua 2014

KoMASK for figure
Price Peto Urzua 2014: Ragaël Rodriguez
Honorable statement: Koyuki Kazahaya
Workshop Jacques Gorus
More information: invitation 2015
Drawing XL, 2011
The judges
Flor Bex honorary director of the MuHKA, Adriaan Raemdonck president of the Asscociation of European owners of the gallery, Marc Claerbout, Fred Bervoets, Peter Reul, Lou Gils, René Huybrechts and Bart 'd Eyckermans (president of the jury). The jury found all entries of good to very good quality. 64 artists in training took part with a total of 94 works. There participated artists from 17 different academy's. Unlike the previous edition, there was no academy that participated from the French-speaking part of the country. The concept of the exhibition was to show around 40 works to preserve the transparency of the building. The performances vary from figurative to expressionist and abstract, in that way it represents a wide range of contemporaty art scene. This year we opted to list all the participating pieces of art in the catalog.
Participating institutions
(Artesis) Royal Academy of Fine Arts Antwerp, (KDG College) Sint Lucas Antwerp, Royal Academy of Fine Arts DKO Antwerp, (College Gent) Royal Academy of Fine Arts (KASK) Ghent, College of Science and Art – Sint Lucas Visual Arts Ghent, Municipal Academy of Fine and Applied Arts Heist-op-den-Berg, Municipal Academy of Visual Arts Heusden Zolder, St. Luke – Kapellen Academy of visual Arts, Municipal Academy of visual Arts / SLAC Leuven, Municipal Academy of Fine Arts Lier, Royal Academy of Visual Arts Mechelen, Academy of Visual Arts Mortsel, Municipal Academy Bruges, Knokke-Heist Art Academy, Academy Temse, Sint Lukas Brussels, Academy Meylandt, Academy Berchem, Academy Ghent DKO.
Report of the judges
Honorable mention
The jury chose this work because of the fact that there was obtained maximum imaging with minimal resources. The mastery is achieved when an artist knows when to stop recording.
| | |
| --- | --- |
| | "Den Bos 1" by Eva Betjens |
Honorable mention II
The jury chose for the work "feedback # 2" by Raphael Rodrigues Garcia because of the tension between the narrative drawing on the one hand and the crude organic in an almost abstract composision on the other hand.
| | |
| --- | --- |
| | "Feedback #2" by Raphaël Rodrigues Garcia. |
Price Cambier
The jury chose the work "Tango" by Wim Waumans Price Cambier 2011 (worht 900 euro) because of the character set, the readability of the resulting tension between the anecdote, which is not self-evident but rather a risk because of the high graphical requirements.
| | |
| --- | --- |
| | "Tango" by Wim Waumans |
Price van Looij 2011 organised by the association Artos
The jury chose for the untitled work by Adeline Vervoor (worth € 1000) because of the control of the plastic element in a combination of painting and drawing, where beautiful light and depth is present.
| | |
| --- | --- |
| | Adeline Vervoort |
Price Komask drawing XL 2011 donated by Immpact
The jury chose for "Turbulence" by Maarten Mangelschots because of the with control-drawn kaleidoscopic rummage of three-dimensional elements, which turned the results into a monumental character despite the excess of details.
| | |
| --- | --- |
| | "Turbulentie" by Maarten Mangelschots |
Competition portraiture KoMASK 2010
The jury, with as chairmain Dr Paul Huvenne, met on Friday 16 April 2010 in KASKA/DKO, Blindestraat 35 in Antwerp.
Download palamares: palamares portrait 2010 (PDF)
The jury members were:
Bart'd Eyckermans (vice-chairman), Fred Bervoets, Flor Bex, Peter Bosteels, Catherine de Braekeleer, Bob Van Reeth, René Huybrechts (secretary).
From thirty Institutes for Arts Education in Flanders, Wallonia and Brussels, 152 artists with 430 works have participated in the competition. The jury didn't receive any information concerning the candidates or their institutions until after the verdicht. All the works that would be recognized in the exposition were selected after the deliberation. Each jury had the possibility to add one extra work. The result was that 37 artists and 59 art works were determined. After that the winners were chosen, the honorable mention and the Laureates were defined.

Price KoMASK SK 2010: 'First price for portraiture KoMASK 2010' 1200
with an amount of € 1200
NELE VANTHOMME, Kortrijk
work: Box 'the innocent'.
Second price for portraiture KoMASK 2010: 'Price ARTOS – L. Theo Van Looij'
with an amont of € 1000
| | |
| --- | --- |
| | CATHARINA ODEURS, Merksem |
Third price for portraiture KoMASK 2010: 'Price Cambier'
with an amouont of € 800
| | |
| --- | --- |
| | CHARLOTTE DUNKER, Froyennes |
Price KoMASK 2010: 'First price for portraiture KoMASK 2010' is an old-fashioned mini filing cabinet.
In the card holder at the front is a sheet with the title: "The Innocent" . This relic of outdated bureaucracy contains a series of small paintings by multifarious portrayed figures. Each painting has a note on the back that makes us suspect that they are acquaintance of the artist. Nele Vanthomme painted the portraits in a rather naive way, although some received a smoother approach and ditto composition. "The Innocent" is a surprisingly archive that puts people up in a fanciful typology, apparently cross grained to any model that tries to transform the individual to easily organisable types. Unruly, somewhat sarcastic, witty and a successful unity.
On the third Price for Portraiture KoMASK 2010: "Price Cambier. Everyone has at least once at a flea market seen pictures, snapshots of strangers, trivial,  deprived of privacy. The (literally) smallest entry of the competition are drawings on delicate paper, based on this type of pictures. The style of work seems simple, but you must be able to draw proper to bring simply copying work to a successful conclusion.
Charlotte Dunker challenges large formats and let us reflect on instability and nostalgia, face to face.
The Second Prize for Portraiture KoMASK 2010: "Price ARTOS – L.Theo From Looij goes to the children's portraits made with a lot of dedication. Passion for a subject is one thing, but it must also be visible in the quality of execution. The warmth by which the subject has been approached, received in these paintings of Catharina Odeurs a striking view in a simple composition with a lively and loose brush technique.
Are being proclaimed to laureate portraiture KoMASK 2010: 
Marijke Aerts,  Laura Brepoels, Veronique Croymans, Hans Denys , Yvon Kreffer, Melanie Lemaitre, Vincent Mandiaux, Jerry Mangelschots, Benjamin Pierard ,  Marc Piron,  Tom Poelmans, Miriam Schwahn, Lien Swerts, Camille Ukrainiec, Mina Van den Heuvel, Eline Van Eerdenbrugh, Mieke Van Houdt, Rose-Marie Willems.
Obtained the Honorable Mention Portraiture KoMASK 2010:
Diana Avramova, Ludo Bex, Sylvie De Meerleer,Thomas Dielman, Greet Gemis, Flora Hubot,Luca Kortekaas,  Liliane Mechelmans, Lucca Nelissen, Jan Pas, Ho Se Hwi, Angela Van den Broeck, Rinie Van Driel,   Patrick Van Lancker, Cathia Verbakel,  Wim Waumans.
Price Looymans
Laureates:
1975 Ronald Verhelst
1976 André Saelemaekers
1977 Christel Bachot
1978 Luc Verbist
1979 Linda Likket
1980 Frieda Maes
1981 Lutgard Lievens
1982 Freddy de Vierman
1983 Bruno Baes
1984 Steven Huysman
1985 Els van de Veyver
1986 Griet Ameeu
1987 Niet toegekend
1988 Jozef Moerloos
1989 Herman Declerck
1990 Marijke Sileghem
1991 Thiers Karin