Exhibitions
Graphic exhibition for students of Ponzan
Special exhibition for Belgian arists
Exhibition with pieces of art from KoMASK members Lou Gils, Peter Bosteels, Bart'd Eyckermans en Nadia naveau, Fred Bervoets.
Her Majesty the Queen honored this exhibition with a visit in Shenzen (China)
China Sculpture
To support the pieces of art it is important to gain insight of what's playing along today in the international art scene and how we can respond to the best.
ART BOOK FAIR


Frac
Research on modalities for exhibition areas brought our president to the pre-opening of FRAC in Dunkirk, a new space for the artists. More information about Frac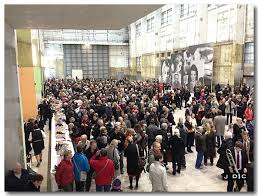 Activities and Masterclasses
Activities of Masterclasses Academy provide valuable information so we can concretize and focus on the objectives of KoMASK.
'Into the Wild'
'Into the wild' is an eight-day project in Auvergne in France.
Nadia Naveau, artist and sculpture teacher led a masterclass at Le foret Tronçais (FR) of an investigation into the possibilities of artists recovery and redevelopment of the site of the archaeological heritage. The French press reacted enthusiastically.
The results of an intense week of work, individually or in collaboration, results in an exhibition at various locations: Domaine M (a location with artists in residence), Maison Art & Design (gallery) and the historic site of Saint-Bonnet-Tronçais.
The main part of the master class takes place in open nature, in the historic landscape of the pays de Tronçais. The emphasis is on the process of work of art rather than the finished result. This project coincides with Nick Andrews, 'Driven to draw', which will focus more on drawing. Atelier visits to local artists are on the program as well as a visit to the Artist-in-Residence occasion in Clermont-Ferrand.
Watch the photo report here.
'Opus 2 n° 4'
Athar Jaber, Sculpture Assistant at the Royal Academy of Fine Arts in Antwerp and member of KoMASK presented his work "Opus 2 No 4" in Academia Belgica in Rome and obtained a free stay from the Academia for one of the students of the studio Sculpture.
KoMASK gives a price of €250  as extra support.
ART. 5 (PROJECT) Planning
The selection process occurs during the Masters jury by the teachers of sculpture. The path taken by the students within the study, his/her development and the quality of the thesis will determine the selection criteria. The selected candidate will be staying at the Academia Belgica for a period of 4 days (preferably Academia Belgica: last week of August).
'Deuce'
The workshops Painting and Sculpture made an exhibitiion in the 'Lange Zaal' and the 'Wintertuin' of the Academy. KoMASK supported with the interior and posters.
Drawing XL
Price drawing 2013
Download PDF KOMASK layout DRAWING 2013 
Download PDF Invitation KoMASK 2013
Presentation jubilee book 2013